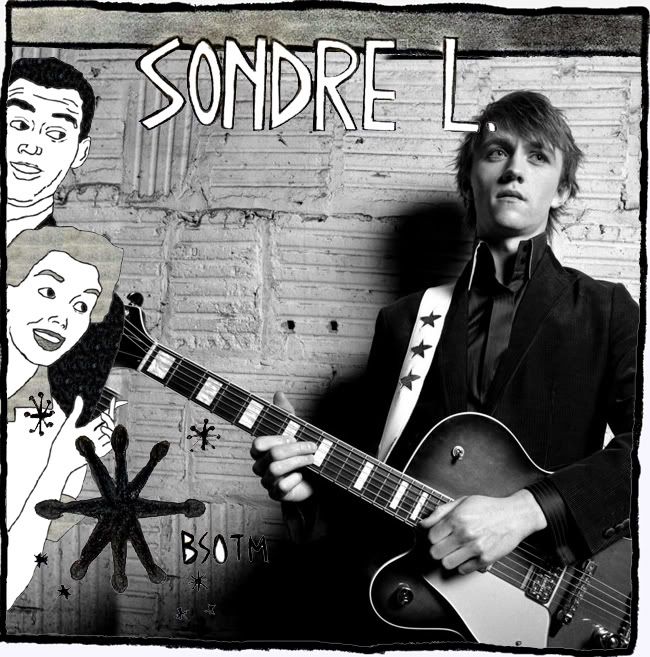 This dapper, young fellow is none other then Sondre Lerche, a man whose name, I've just found, I've been mispronouncing for over a year. Months of saying "Lurch," only to be corrected by the proper pronunciation of something along the lines of "Lehr-keh." Oh well, now that I look at it, it's rather fitting since the Lurch I knew is miles from Lehr-keh. When I came to know him as Lurch, he was the slim Norwegian playing on the edge of a knife between perfect pop with his second album

Two Way Monologue

and a jazzier demeanor under the follow-up,

Duper Sessions

. Now, with the recent release of his fourth album,

Phantom Punch

, Lehr-keh takes the stage as a slim Norwegian with his knees deep in a good, I'll say Brit rock, foundation. Whether he's trying to find his style or just likes to test waters, Sondre's jumped genres with amazing skill and ease, and with his guitar 'round his neck, you really can't tell what's next with a character like Sondre Lerche...




Because the only thing better than one Sondre is three...




From Two Way Monologue

(all songs are right click - save as):
Two Way Monologue



From Phantom Punch:


The Tape
Phantom Punch

Sondre's got a US tour planned that kicks off at South By - check it out at his site.
Be his friend!





Otherwheres -

The Scissor Sisters contest is over! Congrats to Lauren Gunter - your schwag's on the way...

Otherwheres - Matt over at Skatterbrain found some good tunage coming out of an unlikely Indonesia...



Otherwheres

- Chris over at GVB is gonna gonna get get down...II.



Otherwheres

- Other Matt at Picasso has nine, count 'em, nine new Stephen Malkmus songs and a cool typograph rendition of Samuel L. Jackson's What scene from Pulp Fiction...



Otherwheres

- Austinist wants you to get interactive with South By this year...

Labels: SXSW '07