As the old peasant in Monty Python & The Holy Grail once said, "I'm not dead yet!" Though after South By, I sort of wish I were. I'm sure I speak for a lot of people when I say it was one hell of a week. The weather was crap but the venues were packed and the music was louder than ever. Here are a few of the shows I managed to catch....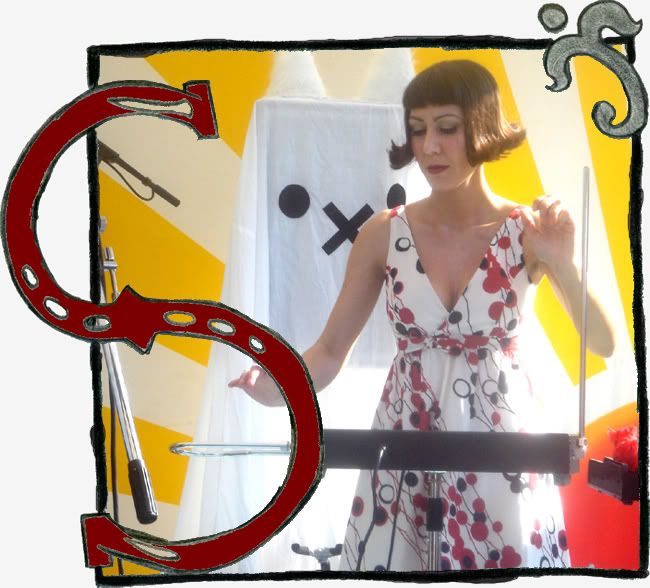 Staying true to their demeanor, the first thing the Octopus Project got to doing when they took to setting up on stage was cover their speakers in sheets decorated like pointy-eared ghost bunnies. Little did I know, this little touch of whimsy would be but a drop in how offbeat these guys can be when it comes to entertaining their live audiences. Being right here in Austin, I've had quite a few opportunities to see this local set live, but I never really took to chance until South By. Nestled in the corner of a parking lot behind a tiny shack of a coffeehouse, the Octopus Project got to work - the guys in tucked shirt and tie, and one, Yvonne, clad in a dress. These guys were just about everywhere during their performance. Energetically, they were jumping around and breaking drumsticks. Instrumentally, they had to crisscross stage, sometimes midperformance, to get to churning out more sounds. Among those crazy sounds was that of a theremin (pictured above).
I'm not gonna lie, these guys are highly entertaining. It's no wonder they got to winning 4 awards at this year's Austin Music Awards. Again, these guys are highly entertaining, and I suggest you check them out if they ever come within 100 miles of you.



From The Octopus Project (all songs are right click - save as):


The Way Things Go
Music Is Happiness

The Octopus Project Site
Be their friend!


While I may have had just about a million opportunities to see the Octopus Project, Bishop Allen is something a bit more rare in my parts. They've announced coming around here at least three times before, and everytime it cuts short of happening for one reason or another. Needless to say, I made it a goal to see Bishop Allen once I heard they'd be down for South By. Just down the street from the coffeehouse mentioned above was an art gallery, and the alley behind was where Bishop Allen chose to play. Under a circus-like tent of striped red and white, Bishop Allen was about a quarter way through their set by the time I got there. Well, after a long day of shows, those kids ended up capping my day, and how well they did it too. Everything about it made for a perfect goodbye. Knocking about for long hours in crowded venues, Bishop Allen's hushed set under the tent's muted glow made me realize just how tired I was and how I couldn't imagine ending my day in a better way.



Various Songs From Bishop Allen:


Butterfly Nets
Click Click Click Click

Bishop Allen Site
Be their friend!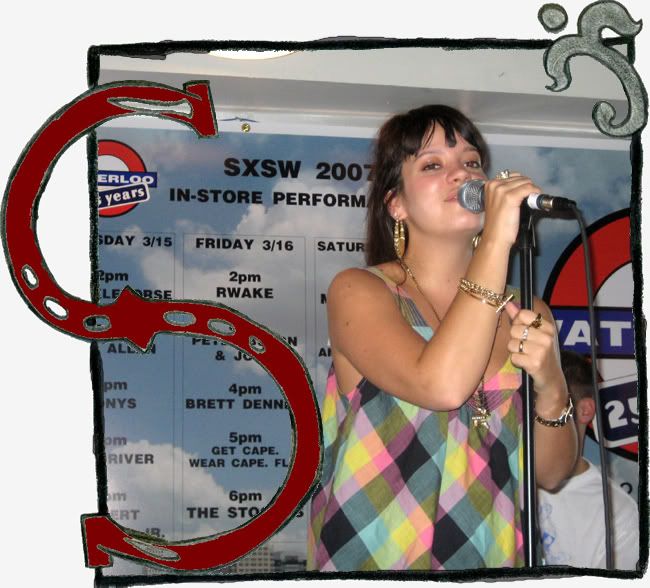 I'm gonna be honest and say that I was dragged to Lily Allen by the girls in my group that day. Andrew Bird was somewhere playing down the street, but I saw this feisty Briton instead. Honesty continued, come the end of her instore, I probably ended up liking the set just as much as the girls did. Being on a tiny, tiny platform, Lily Allen opted for a more acoustic approach, and under this decree a number of covers were done. The store that's roomy any other time of the year was cramped to capacity that day, but no one there really cared. Everyone was there for Lily, and a cramped little store was barely an obstacle. The whole event was carefree and casual, a bit of chit chatter here and there blended seamlessly into her set. Before we knew it, a half hour came and went, and Lily left the stage under the echo of Smile playing on the store's speakers.



Various Songs from Lily Allen:


Smile
Nan, You're A Window Shopper

Lily Allen Site
Be her friend!


Menomena, a name I've apparently been mispronouncing, took to stage at the Hot Freaks! event them other bloggers publicized heavily during the weeks that built up to South By. Who can blame them though? Menomena was just a sliver of one amazing lineup the guys managed to build up. For such an industry-driven festival, everyone goes about with such a casual demeanor and the bands that participate take this into mind. Menomena definitely characterized this in their performance in the idea that their set was pretty much a conversation among friends that had songs randomly thrown in. They talked about the idea of growing greenery in their hair thanks to the greenhouse that was lovingly provided by the venue, and they talked about the sunlight casting them into a Jesus aura. I'm not sure if it's bad for me to say that the most I can remember is the banter, but I remember having fun and at the end of the day that's all that counts.



Various Songs from Menomena:


Ghostship
Wet and Rusting

Menomena Site (It's gotten less annoying)
Be their friend!


Though they played under the same greenhouse as Menomena, Asobi Seksu, it seems, is a bit more outdoorsy. Feeling oh so right under the conditions, Asobi Seksu played to an equally relaxed crowd. Everyone was just in a good place at the time, the sun was out but the breeze kept us cool and all the while Asobi continually pumped easy listening into our ears.
Something I love about South By is the fact that throughout the entire festival, the audience is just as much a participator as the performers are.
With the majority of their set over, Yuki extended to all of us in the crowd an invitation to join the quartet on stage at the conclusion of their last song. Come that time, Yuki held up various instruments and threw them into the crowd. Before you knew it, you couldn't tell who was the audience and who was the band. It was a great set and ended on the same high note it carried itself on throughout their performance - definitely one of my favorites.



Various Songs from Asobi Seksu:


Thursday
New Years

Asobi Seksu Site
Be their friend!


The crazy Australian septet known as Architecture in Helsinki was without a doubt the highlight of my day one and was a great way to shoot off South By festivities. The weather was bad, but the rays where shining out from the stage. I expected nothing less from the band I affiliate with things like cupcakes and rainbows. Their set was based heavily on tracks from their unreleased album, and the longer-than-most set only held a few tracks from

In Case We Die

. I heard no complaints about that...as far as we were concerned, they still got us jumping.



Various Songs from Architecture in Helsinki:


It's 5!
Wishbone

Architecture in Helsinki Site
Be their friend!


-------------------------------------------------------------------------------



Otherwheres

- Some of my favorite people have been busy doing their own recaps, and I'm sure they're just as pooped as I am...



Otherwheres

- Rod Thomas' video for Your Love Is A Tease was recently released - because all whale/fish things need love too...



Otherwheres

- If you're around Austin Saturday night, Carousel Lounge has got a great lineup with the likes of Sally Crewe & The Sudden Moves, The Summer Wardrobe, and the Distant Seconds - only $3!


Labels: SXSW '07