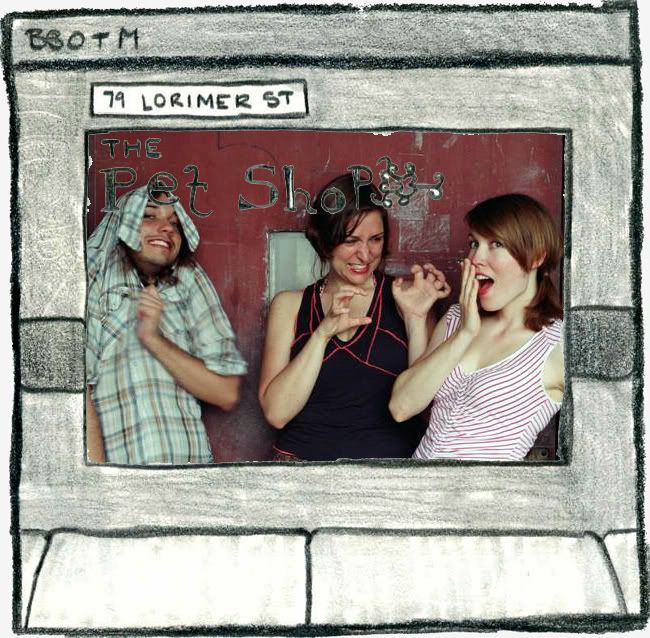 Matt over at Skatterbrain is just genius - I don't know how finding good things makes him a genius, but I'm gonna say he is anyway. Now, anyone that knows me is familiar with the fact that I hardly ever use the word 'cute', but damn, this Brooklyn trio is cute. I decided to make their frame about pet store antics simply because The Besties are what you would get if puppies could make make music. Even the way they describe their musical characteristics deserves a pinch on their cheeks - you'll hardly ever find a stray voice on their songs because they're afraid to sing alone. Happy, sweet and, yes, cute - The Besties just want to curl up and find a home in your heart, so hurry up and adopt them already. The Besties have some shows queued up in the NE for October. Now if you excuse me, I have to grow my manliness back...

Various songs from

The Besties

(all songs are right click - save as):
Prison Song
79 Lorimer Song
Besties Theme Song
Pirate Song

Check them out at The Besties site.
Be their friend!



Elsewhere

- Found on the Austinist: if you live in the Austin Metro area, you might want to consider riding the bus more often. Between now and September 13, a one-day bus pass could magically grant you a one-day pass to Austin City Limits. Capital Metro has 45 of those to give away, and one of those gets to be upgraded to VIP come the contest's end. I'll just remind anyone that cares that one-day bus passes are only $1.



Elsewhere

- Speaking of ACL, let's not forget that Janet over at Out The Other is still up to her usual with ACL artist previews for this year's fest....yes, it's got mp3s.