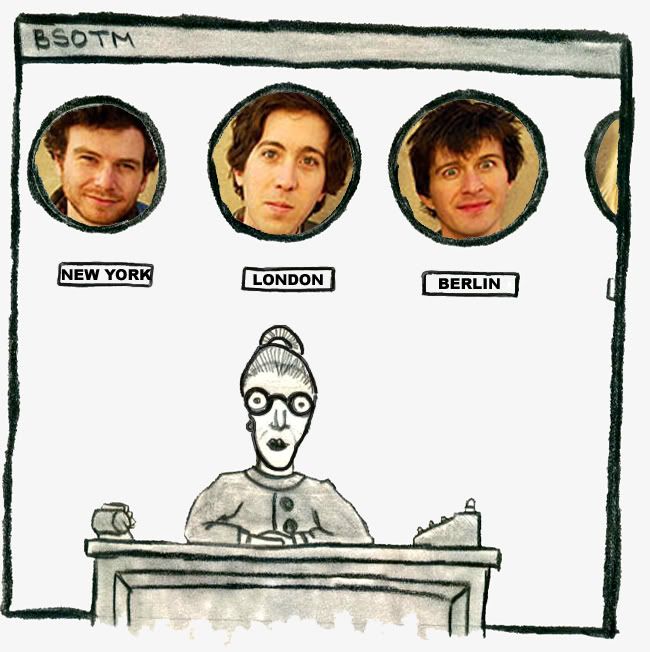 Ah it's that (and if you're a gal, that other) time of the month again, if you're not familiar with Bishop Allen's plans for this year, it goes like this -

Bishop Allen

is a band that hails from Brooklyn, and took a nice hiatus shortly after their debut hit Charm School in order to write their (currently) label-less album Clementines

. As that album strolls about waiting for release, they're going to distribute an EP every month for a year - yes, every month.

I know

August

was released how many days ago, but I thought it'd be better to hold off on the August announcement here at Both Sides since we had that Monthstravaganza Contest goin' on. Well before I make the winner known, let me announce something else - August. Now August was delayed some, because August takes a bit of step off the usual Bishop Allen monthly EP plan. In what way you ask? Well it just so happens that August is longer than your usual EP, and with 13 tracks, it's rather much of an album of live tracks. Yes, live tracks. You see, the actual month of August was spent by Bishop Allen either on the road or off it playing gigs. The August EP is their way of sharing that month of road trekkin' with you. The tracklisting for the month includes "a coupla chestnuts from

Charm School

", Bishop Allen's favorites from EPs already released, plus two unreleased tracks. Oh yeah, it's still only $5! So what are you waiting for? Get yourself to Bishop Allen's site, your cart's getting lonely...

From

August

(all songs are right click - save as):
That Summer

From

July

:
Click Click Click Click

From

May

:
Butterfly Nets

From

February

:
Vain

All right, enough of a delay,
so who's the winner of Both Sides' Bishop Allen Monthstravaganza Contest
? Well I don't want to shrink your skivvies any more than I already have;

the second prize winner, who gets any Bishop Allen EP of their choice, is Hillary Chan

!

The rather grand prize consisting of seven Bishop Allen EPs goes to Kerry Into - congratulations

to the both of yas! Now if you two would email us which EP(s) you would like, we'll send it right off to you...

Didn't win? Don't worry, you know how we are. We're rather contest happy so another one is coming very, very soon...


---------------------------------------------------------------------------

Otherwheres
- Matt over at YANP, has a great euologic article on the life and death of WOXY.