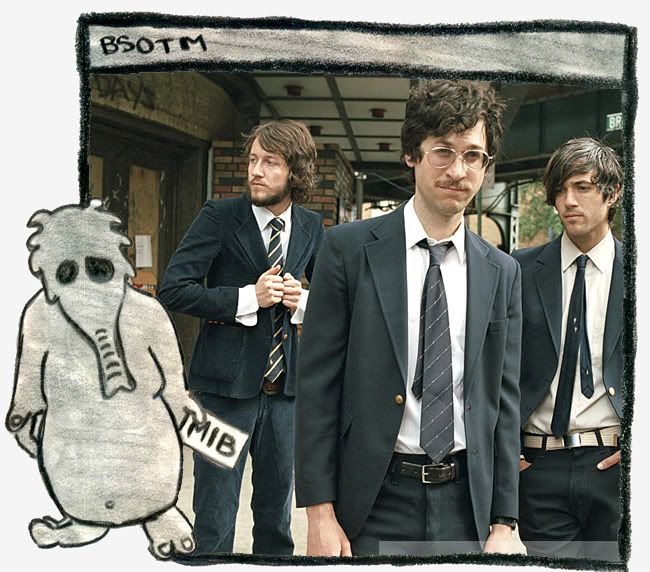 Remember what I said about blogger's remorse? Posting on a band now past their hype just because I liked them before this blog started? Well I don't know about you but We Are Scientists are always in season, so even though they sort of fall into that blogger's remorse bit, I'd like to think that they don't. I think it was Skatterbrain Matt that mentioned how the bands you love most are hardest to blog about, and surprisingly enough, it's true so bear with me on this one. We Are Scientists is composed of three rather crazy guys from Brooklyn, and their concert blanter, I must say, is highly entertaining. Quite in fact, everything about them is entertaining, and if anything contributes to that its their drive.
Their energy just about formulates and explodes right in front of your eyes.
No one person is special; they each contribute to the entity that is We Are Scientists. Yes, these three guys were just meant to make music together, and they make their symbiotic stylings known through highly infectious, high-energy music. So how about off the stage and through your speakers? Well, the energy carries on and the tunes are just as infectious. The band have a some tours set for the future, the soonest of which is their
The Also-Ran Buzz Bands Tour

where they hop cities with Art Brut and Spinto Band all across Americanada. Whats that? You're over the Atlantic? Well don't fret, they're also planning on the British Isles, but (and this makes their source of popularity known) just about 3/4s of that tour is already sold out. So pop a squat and give an ear to We Are Scientists...

Various Songs from

We Are Scientists

(all songs are right click - save as):
Inaction
The Great Escape
Selective Memory
That One Pop Gem

Check out their concert dates at the Sci-Cave.
Be their friend!


------------------------------------------------------------

Otherwheres
- If you didn't notice,
Skatterbrain
took a bit of a hiatus recently, but that's all right because Matt's back and posting!
Otherwheres
- Mike over at
Nothing But Green Lights
did a rather extensive feature - the A to Z of finding new British music online.