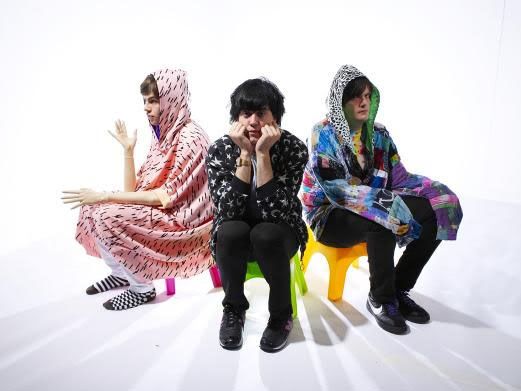 Formerly dubbed "Klaxons (Not Centaurs)", Klaxons is a kooky trio from New Cross, London. Part of the undisclosed New Rave scene, these boys got their start in 2005 with their release of their debut single,

Gravity's Rainbow

. Only 500 were released on vinyl that the band decorated themselves. Since then, Klaxons has climbed up a bit on the ladder of mainstream recognition. They've been featured on BBC Radio, has recently signed to Polydor Records, and plan to release their debut album,

Myths of the Near Future

, this upcoming January.
As for their sound, Klaxons is a mix of punk, funk, art rock, rave, and a million other genres. Over all, they're pretty accessible. Nothing to have to

attempt

to like. Even so, their music is pretty out there. Kind of makes me want to hail a UFO and go on some galactic mission with synthesizers sometimes. Listen to

Gravity

for a falsetto Bloc Party-like encounter, listen to

Not Over Yet

for a friendly but more retro feel.

Yes, they're on tour...

... in Europe, so check out their Myspace for dates.

mp3 Gravity's Rainbow
mp3 Not Over Yet

Klaxons' Official site
Klaxons' Myspace