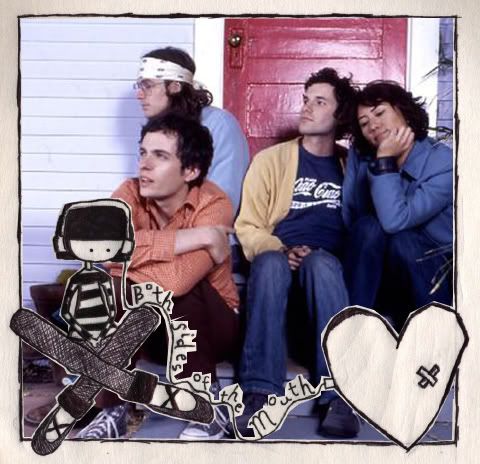 This foursome from Los Angeles is currently label-less, but they could fit in neatly with all our favorites from Saddle Creek. It's no wonder, considering their debut album,

Slingshot Echoes

, was produced by Andy LeMaster, the studio mastermind and/or member of Now It's Overhead, Bright Eyes, and Azure Ray. The resulting sound has room for comparison. Jack Burnside's voice has its Conor Oberst moments, Jonathan Zeitlin's riffs are reminiscent of that of Death Cab's. But, of course, that's a good thing. Mezzanine Owls have a chick drummer, Pauline Mu, but none of the stereotypes apply. Unlike some other bands with seemingly talentless female rhythmists (*cough* White Stripes *cough*), Mu can hold down a beat that consists of more than your typical alternating bass drum, snare sequence. Yea, take that, Meg.
All in all, Mezzanine Owls are dark, pensive indie rock, deserving of your listening pleasure. Like all the other cool kids, they're playing South By in a couple weeks. So yea, tell all your friends.


Upcoming Shows

Feb. 27
El Cid

Los Angeles, CA

w/ In Waves


Mar. 1

The Coach House

San Juan Capistrano, CA

w/ The Shy's


Mar. 15

SXSW Austin, TX
Mar. 17 SXSW

Austin, TX



m4a Dark Too Early
m4a Luxury Spirits

[Mezzanine Owls' Myspace][Mezzanine Owls' official site]

--



Soyea

there are a shitload of Shins
(not music, but behind the scenes)
videos at Stare All You Want. Check them out -- some of them are pretty amusing.



Soyea

Brad

and I were talking about typography this morning and he sent me a couple videos that are cuh-razy cool. Here's one. Here's the other.

Labels: SXSW '07