The show last last night was amazing. I'm sure I would have enjoyed myself a lot more if I wasn't throwing up, but even while I was on the ground by everyone's legs trying to get my act together, I really really liked the show. Thanks to the security guard for letting me drink his water and not being angry with me for vomiting on his shoes.



The Noisettes opened the show with a mindblowing performance. The lead singer, Shingai Shoniwa (her name is so badass), had so much ridiculous energy. She was jumping all over the place in her bright orange hotpants, hair flying everywhere, belting out song in unbelievable pitches and tremors. Her stage presence is amazing, but her voice is even more so. She can go from seductively low and soft to piercingly shrill and high in a matter of seconds, while still holding down a solid melody. Shingai's hands down one of the most impressive front(wo)men I've seen in a long, long time.
Her bandmates were also incredible. Dan Smith, lead guitarist, had his share of sexy guitar solos that got the crowd going. The drummer, Jamie Mor
rison, was ridiculously good though. Not only was he pumped up as hell, but his beats were just insanely awesome. All the songs they
played had this crazy rhythmic backbone that drove them over the edge and back again.
In short, The Noisettes were a badass good time.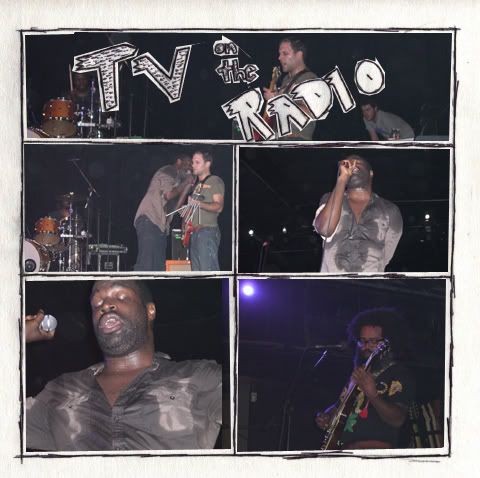 Then it was time for the headlining TV On the Radio. For the first couple songs, I was really dizzy and blacking out, so my concentration was kind of affected. Then they started playing "I Was a Lover," I leaned over the railing and threw up profusely, and finally felt well enough to start enjoying the show. Lead singer, Tunde Adebimpe (yet another badass name) had better pelvic moves than Elvis. His hips just swiveled around and around, with his wrist and elbow raised, flapping any which way he fucking wanted. His voice remained relatively stable throughout the set and he was able to deliver the great falsetto he's been known for. Oh, he is also a fine whistler. Kyp Malone, the guitarist/background vocalist/bearded cutie pie, was so fucking lovable. With his tight little T-shirt and heart belt buckle, Kyp oozed endearing. The lone white band member, David Andrew Sitek was just as incredible as the rest. I've never seen anyone strum so fast -- his hand was a blur half the time. For a lot of the show, I was on the ground and didn't get to focus much on drummer, Jaleel Bunton, or bassist, Gerard Smith, but from what I could hear, they were amazing.
The closing song was "Staring at the Sun." It blew my mind, it was so good. It was the perfect ending to a not so perfect night.

Despite all that happened, this show was one of my favorites. Any performer could most definitely look to both TV On the Radio and The Noisettes for inspiration on how to deliver onstage.
As always, I've got some mp3s (not live, by the way) posted below.
Photo props to Shadid for taking the pics of TV On the Radio.

The Noisettes



mp3

Mind the Gap


mp3

Scratch Your Name

TV On the Radio



mp3

I Was A Lover


mp3

Province


mp3

Staring at the Sun