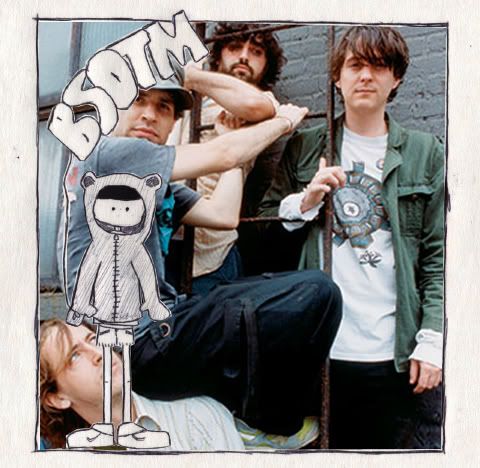 So sorry about the wait. Brad and I have finally managed a way to keep our songs up for more than four days! I know it must've been frustrating for you guys, and believe me, it was frustrating on our end as well, but thankfully the "bandwidth exceeded" days are over!

Now. Onto Animal Collective. So our friend Shadid turned me on... to the band, saying they sounded like "Mew on speed." Honestly, I think they sound nothing like Mew, but I do get the drug reference-- Animal Collective produces some of the trippiest music I have ever had the pleasure of listening to. The first song I heard was "Who Could Win a Rabbit?" off of their fifth album,

Sung Tongs

, and I literally laughed out loud upon hearing it, not because it was "haha" funny or anything, but because it was so weird yet so good at the same time. I guess that's the simplest way I could explain the band: weird yet good.

Ridiculously experimental, incorporating exotic themes and environmental noises in their music, Animal Collective's four members all come with two names. David Portner (Avey Tare), Noah Lennox (Panda Bear), Josh Dibb (Deakin), and Brian Weitz (Geologist) were all schoolmates and friends in Baltimore, Maryland when they started recording material together. Although eventually splitting up to attend college, they kept their music alive by fusing their own homemade recordings together and releasing the tracks off their own labels. Now, seven years after their start, Animal Collective runs the label Paw Tracks, a conglomeration of their previous home labels, which releases their material along with that of bands such as The Peppermints and Terrestrial Tones.

Animal Collective will be touring extensively for the remainder of the year. Check their Myspace for the dates!



mp3
Grass
mp3
Who Could Win a Rabbit?
mp3
Prospect Hummer