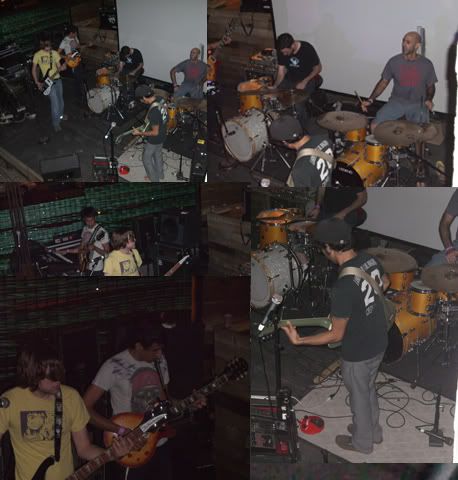 Last Thursday, Brad and a few friends and I headed down to Mohawk to celebrate Brad's birthday by watching one of our favorite bands, Starlight Mints. The two opening bands were The Separation and Low Line Caller. Neither Brad nor I enjoyed The Separation at all. In the middle of their set, we looked at each other and both of us had screwed-up faces of unenjoyment. Low Line Caller, however, was a different story entirely. I kept on freaking out while they were playing, going, "Ohmigod, Brad, I love this band," "Holy shit, Brad, they have two drummers, look," "Ohmigod, Brad, I have to post on this band," "Holy fuck, Brad, what are they even called." In the noisy environment we were in, I first thought they were called Moonlight Colors. Seventy million tries later, I finally got it. Low Line Collar! Then Brad had to mime talking on a phone instead of grasping at his neckline, and yea, then I really got it. Low Line

Caller

!

Well, like I said, they blew my mind. I have to say I like them a

whole

lot more live, and I must admit I was slightly disappointed upon hearing their recorded tracks. They're like The Noisettes in that way. When I saw them with TV On the Radio, I thought the Noisettes were the shit. But upon arriving home and downloading their music, it was just, "Oh..." I'll always love Low Line Caller for lifting me out of my lack of bliss after The Separation's set though. The drumming hit me first. From where I was sitting on the second floor, I could only see one drummer. But the beats I heard were so crazy

,

I was kind of tripped out. But alas, upon leaning a little over the railing, I found yet another drummer! I thought that was so cool. Both drummers lay down different beats, but they have a way of complementing each other perfectly to create a whole 'nother rhythm that's simply hypnotic. The lead guitar is also really hypnotic. The riffs are repetitive to say the least, but I guess that's one of the key elements of an instrumental band. A vocalist would step out for a couple songs, and I thought he was amazing. Once again, once I heard him via computer, I was not so impressed, but the stage quality he had that night was fabulous. They're not even two years old yet, so they've got a lot ahead of them. Hopefully, they'll stay an Austin band and not leave us for any amount of time (ahem, Spoon). But either way, I'm really excited to see what they crank out for us in the future.


mp3
Over the Counter Kids
mp3
It's Like I Think We're About to Leave