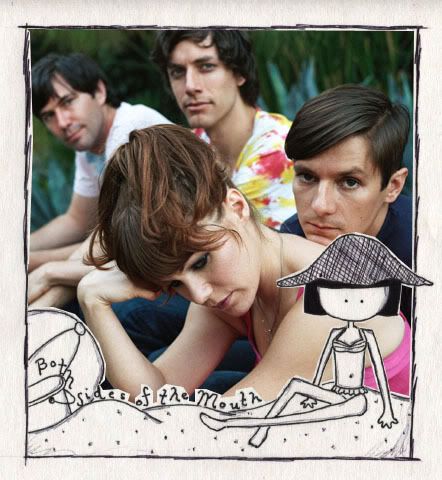 "And if I get pregnant, I guess I'll just have the baby. Let it be loved, let me be loved."


If I give the upcoming statement more thought, it may or may not still reveal itself as true, but, right now, I can confidently say that I have never heard a more versatile voice than that of Jenny Lewis. You know her from The Postal Service, Cursive, and her widely acclaimed solo album with the Watson Twins, but her work with Rilo Kiley is most important -- Jenny's work outside the band lacks the dexterity she so cunningly showcases within the band. You have to listen to the three posted songs to get what I'm talking about. She's almost saccharine in "Does He Love You?," as she croons about a forbidden affair with a married man as the homewrecker, directed at the homewreckee. Sweet and soulful, you wouldn't guess that the same voice could crank out "The Moneymaker." Hushed, sultry, and with definite sex appeal, Jenny takes a pre-Danny Zuko/post-Danny Zuko transformation with this song off Rilo Kiley's soon-to-be-released album,

Under the Blacklight

. And then there's the Emmy Lou Harris side of Jenny who makes a frequent appearance with songs like "More Adventurous." With an audible twang and lilt to her voice, she rivals today's country divas for the title of Prettiest Voice. So are the different voices of the multi-faceted Jenny Lewis.

But of course, of course,

of course

, a huge share of credit is due to Blake Sennett, Pierre de Reeder (what a good name), and Jason Boesel, or The Rest of the Band. I'll admit that many a time, it's as if the music they create is meant only as a simple background for Jenny's voice, but songs like "The Moneymaker" make me eat my own words. Although they can be simple and subdued, the band can also create the catchiest of riffs and beats and licks that awe and inspire.

Under the Blacklight

drops next month, and I'm looking forward to hearing more of the attitude and skill they display in their first single (which is, um, "The Moneymaker").
Upcoming Shows

Aug 15
Venue TBA Hamburg
Aug 16 Pukkelpop Music Festival Hasselt
Aug 18 V Festival Stafford
Aug 19 V Festival Chelmsford
Aug 20 Islington Academy London
Aug 21 Academy 3 Manchester
Aug 22 Rescue Rooms Nottingham
Aug 24 Tivoli Utrecht
Aug 26 Prime Club Koln
Aug 27 Lido Berlin
Aug 28 Ampere Munich
Aug 30 Noveau Casino Paris
Aug 31 Academy 2 Birmingham
Sep 1 Connect Festival Argyll, Scotland
Sep 2 Electric Picnic

Stradbally




mp3
Does He Love You?
mp3
The Moneymaker
mp3
More Adventurous