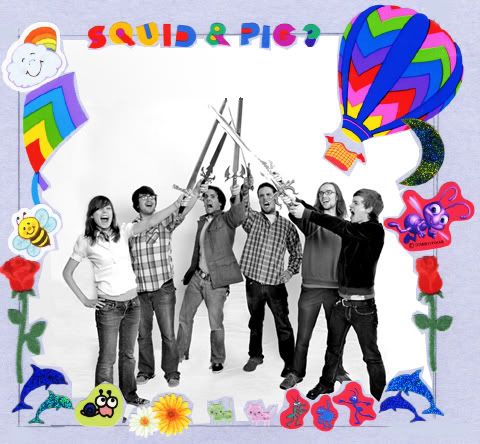 I'll admit to occasionally neglecting our inbox. When you have 477 new e-mails, it's only natural to be intimidated and hide. Nevertheless, a couple weeks ago, I checked a message from the ever-present Ian Anderson, a representative and member of Minneapolis's Afternoon Records. Attached were a couple of mp3s from one of his bands, One for the Team. I've had pretty bad experiences with attached mp3s from completely unheard of bands, but something made me open both. Lo and behold, the first, "Best Supporting Actor" immediately rooted itself in my inner ear upon listening. The structure of the song was beyond refreshing - I can't even name the last time I heard a truly successful bridge. And the verses! More or less chanted by a chorus of raw voices, I was reminded of an adolescent Jimmy Eat World. Their adolescence should not be confused with immaturity, however. Sentimentality is kept at arm's length, along with whiny melodies and forced feeling. Instead, their music proves to be controlled and sincere, embracing a pop aesthetic, but never slipping into the saccharine. With their debut album, Good Boys Don't Make Noise, already receiving flattering reviews, these kids have no need to grow up anytime soon.
Upcoming Shows
Aug 16 Schubas Chicago, IL w/ Christians and Lions
Aug 17 The Bluebird St. Louis, MO w/ Thor Axe, Tree Heart Orchestra, & Ghost of the Forest
Aug 19 Bali Satay Ames, IA
Sep 7 O'Gara's St. Paul, MN w/ the Alarmists
Sep 22 M-Shop Ames, IA w/ Poison Control Center
--
Soyea check out Blog Fresh Radio for interviews with all your favorite bloggers... including us!
Soyea I am very, very excited for Across the Universe. It hits theatres nationwide September 21.
Soyea Rilo Kiley's Under the Blacklight drops in less than a week! Watch out for it on August 21.