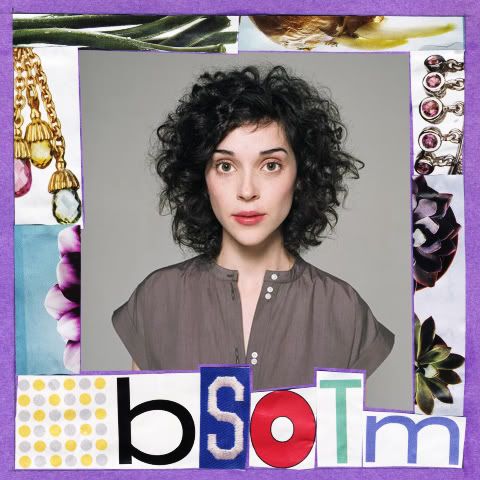 I saw St. Vincent before I heard her. Willowy limbs, curly mop of hair, penetrating eye-globes, and impeccably stylish clothing. I then hit play and fell in love, musically speaking. How much deeper do you think I fell once I learned that all the sweet, sweet music I was hearing was derived from her mouth and fingers alone? Yes, St. Vincent, aka Annie Clark, is yet another one of those multi-talented wonders that exists in the musical world, providing not only the voice, but also the guitar, bass, piano, synthesizer, and programming for her music. To amaze me even further, it came to my knowledge that she also

performs

by herself. St. Vincent is Superman.

As the established guitarist for both The Polyphonic Spree and Sufjan Stevens (!), it was only time before Annie spread her wings as a solo artist. July 10 saw the release of her debut album,

Marry Me

. Coyly named and coyly executed, her first record showcases her melodic soprano voice and whimsical instrumental style. Pleasant and equally heartfelt, songs like "Now. Now." and "Jesus Saves, I Spend" immediately root themselves in the listener's good graces with their refreshing originality and quirkiness. My prediction for St. Vincent for the upcoming years: raging popularity rivaling that of Sufjan.


Upcoming Shows

Aug 7
Modified

Phoenix, AZ




Aug 8

Club Congress

Tucson, AZ




Aug 9

Launchpad

Albuquerque, NM




Sep 1

Bumbershoot

Seattle, WA




Sep 4

229

London




Sep 5

Slaughtered Lamb

London




Sep 14

Granada Theatre

Dallas, TX




Sep 18

Ogden Theatre

Denver, CO




Sep 19

Slowdown

Omaha, NB




Sep 20

Fine Line Music Cafe

Minneapolis, MN




mp3
Now. Now.
mp3
Jesus Saves, I Spend
DUMBO Session of "These Days"

--

Soyea
only two more todays until The Octopus Project's

Hello, Avalanche

drops! If you just can't wait, stream selected tracks here.



Soyea

Architecture in Helsinki has recently announced their fall tour. First show on the list is at Philly's Starlight Ballroom on the 10th of October. For the rest of the dates, check out Helsinki's Myspace.