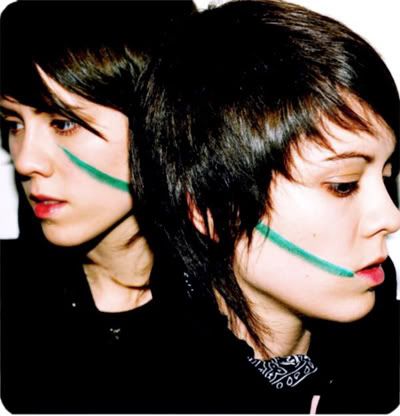 Yes, Tegan and Sara are identical twins. Now that that's out of the way, let's talk about their music! I kid -- the twosome come with a nice biography. Born in Canada, Tegan and Sara began recording tracks in their school's recording studio at the tender age of fifteen. Three years later, the sisters won Calgary's Garage Warz Battle of the Bands, and they've been going nonstop ever since. Touring with the likes of Rufus Wainwright, Ben Folds, The Killers, Cake, and Weezer, Tegan and Sara have released no less than eight albums, the latest of which being The Con, co-produced by Chris Walla and Jason McGerr of Death Cab for Cutie.
Grungy and quirky with a definite edge, Tegan and Sara create music of the fun variety. Melodies are always kept upbeat and unexpected -- once you think you've got the tune down, they change it up. Both sisters provide vocals, many a time singing together in harmony. It's a trippy thought as well as a trippy sound. The two essentially share the same voice... so when they sing together... it's like the same person singing two different parts... but in two separate bodies... Regardless of who's singing what, the twins have an awesome voice. Bold and a little off, they sound a bit like Gwen from the early No Doubt era. The vibrato's definitely there, along with the treble and the attitude. They do, however have something Gwen will never have: a clone that can match her musical act exactly.

mp3 The Con (favorite)
mp3 Call it Off
mp3 Like O, Like H
mp3 I Bet it Stung


Video for "Back In Your Head"