This past weekend's Fun Fun Fun Fest may not have garnered the attention (or the amount of festival-goers) as the other two fests this city is known for, but let it never be said that FFF didn't deliver itself with just as much spirit as it's two older brothers. In only it's second year, FFF has billed acts like The New Pornographers and Of Montreal bringing about a festival that not only lives up to it's name, but gives the veteran events something to look out for in the future as well. Thanks to the kind folks at the Austinist, I was given the opportunity to attend day one and catch acts like

The Lemurs

,

Zykos

,

Brothers & Sisters

,

Small Sins

,

MGMT

,

White Denim

,

Final Fantasy

,

Okkervil River

,

Of Montreal

, and

The New Pornographers

...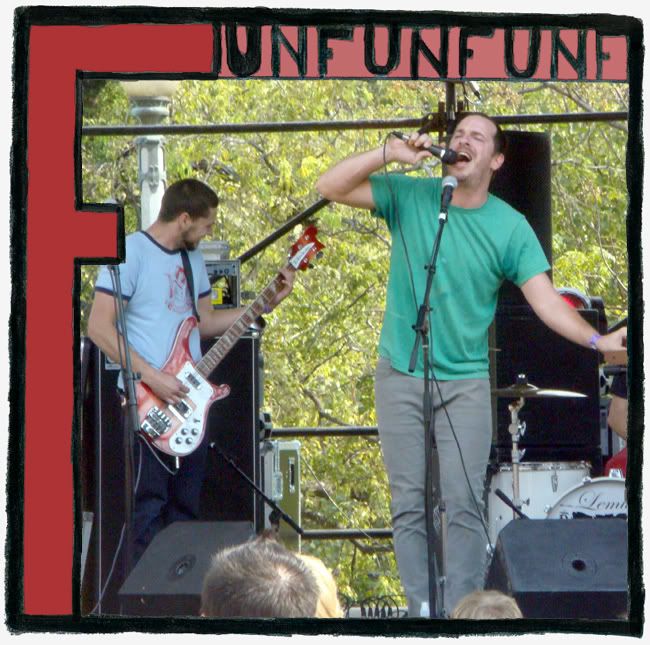 Taking up the first slot of the day on Stage 1 were Austin natives,

The Lemurs

. Beginning their set as the fest was still slowly waking, The Lemurs played to a modest crowd, but nonetheless, brought about a set with a ferocity that could easily entertain the musings of a crowd of thousands. I hadn't heard much of the group before that afternoon, but I'm glad my real introduction to the quintet was that performance. As I watched the collective, there was just a sense of everything being right. The moves and motions on stage were mechanic, in the best sense. The placement was right; the movement was right, and so appropriately, the music that blasted through the speakers was superb. It's a shame that the curse of this early slot was a decidedly smaller crowd. The Lemurs should have garnered more attention; they deserved it. And whether or not the group felt a slight sense of disappointment at the small showing, it didn't reciprocate in their tracks. If it did, then I'm gonna have to catch these guys on a good day and see what would be, I'm sure, an even greater show...



Various Songs From The Lemurs (all songs are right click - save as)

:
Breaking You Down
They Do What They Like

Check out more at The Lemurs site.
Be their friend!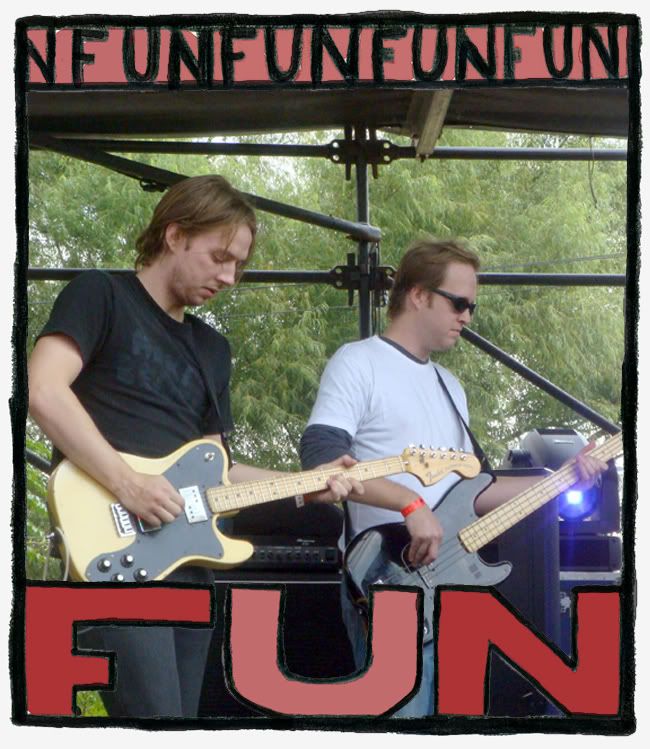 Following The Lemurs on the other side of the stage were yet another band of locals,

Zykos

, a band that sort of disappeared from my musical radar two years ago. Needless to say, their set served as a great refresher course on the group's discography. I never really noticed it in the tracks before, but as their demeanor on stage reflected, Zykos carries a concentrated intensity. It's like their a bubble that just keeps getting bigger and bigger, getting ready to burst. Zykos played a fine set, but I couldn't help but feel just a little bit disappointed. I wish I could at least compare this to other performances, but this was the first time I saw them hit stage. In a way, that odd bubble analogy though helps to describe my disappointment. I went through that entire set just waiting for that bubble to pop and release something that melts my face a little, but it's like they held back and kept everything contained. The rest of the crowd didn't seem to share this though. I hadn't realized how much the park had filled up since the beginning of their set, and I probably would have continued to not notice if it wasn't for all the added applause behind me...



Various Songs From Zykos

:
Zeroth
Moviehome

Be their friend!

Continuing the line of local acts,

Brothers & Sisters

promptly placed themselves on stage after Zykos. At this point, I took a lunch break, but I still managed to watch them from my seat uphill. Fun Fun Fun is indeed a small, local-feeling festival, and even views from afar are decent. So, as I ate my pizza, I let the wind carry Brothers & Sisters' sounds to my ears. The time slot for these guys I'm sure was just happenstance, but it ended up working so well in their favor. With their summery folk and Southern charm, I feel as if the time of day complemented their set. On this unusually perfect day, the sun was warm and lazy. The breeze was cool, and all the while, the chorus sang out, "Sunshine is here to stay."



Various Songs From Brothers & Sisters

:
One Night
Without You

Check out more at the Brothers & Sisters site.
Be their friend!

Now the rest of the day had been fine and dandy, but I can honestly say I didn't truly give the meaning of "festival" to the event I went to until I saw this group of Canadians. From an unexpected Stage 3,

Small Sins

acted as my power-up and provided a set that was high with energy. I had never heard of them before. Why did I not know of them? Why was no one so kind as to point me to their direction? The Toronto-based quartet played one hell of a show, claiming, "We came to here to chew gum and kick ass, and we're all out of gum." And they did indeed kick ass. I can't remember much, but I'm sure things were flying. Small Sins - good stuff, certainly picked up my afternoon.



Various Songs From Small Sins

:
It Keeps Me On My Toes
What Your Baby's Been Doin'

Learn more at the Small Sins site.
Be their friend!

As Evangelicals took to stage at another part of the park, I decided to opt out and stay at Stage 3 for

MGMT

under the persuasion of a friend. Now let me tell you a bit about Stage 3 before I go on. Nestled in a grove of oak trees - I think they're oak, I don't know my trees - is the smaller stage where DJed sets and music with an electronic-ish mindset were slated to play. It was shady and cool, and behind it was a babbling brook whose sound rivaled any nature sound alarm clock's. In this secluded grove, MGMT started their set with a peaceful Native American flute drone that transitioned us out of that grove and into the world of MGMT. As the flute ended, they just drove right into a high energy set, and from what I could tell, they had no plans on slowing down, let alone stopping. Sure the Evangelicals were on another stage, but MGMT was well worth the stay...



Various Songs From MGMT

:
Kids
Electric Feel

Be their friend!

After some much needed boosts from Small Sins and MGMT, I was really ready to take on the rest of the fest. At this point, the "fun" aspect really was building, and

White Denim

made sure to keep it towering. Up until Saturday evening, White Denim was, generally, a band I just heard about and never really had the the pleasure of hearing. Now, I get sad when I miss the opportunity of hearing a good band. I get even more depressed when I know that good band is local. When a good band is local, you really have no excuse to miss out on them. That being said, it makes me really sad to know I let White Denim sorta just slip from my attention for a while. These guys really know how to put on a show, and to my surprise, they hadn't played a festival before. If it wasn't for that little quip, I would've never guessed that. The boys took to stage like veterans - the banter was witty, the sounds were tight. My favorite part has to be the unique delivery of vocals and overall stage antics from all three members. Watch each one, and it's as if they represented a different kind of band. I don't know what the glue binding them is, but this hodgepodge is White Denim and I finally know what all the talk is about. If you were like me, I wouldn't make it a habit to miss these guys much longer...



Various Songs From White Denim

:
ShakeShakeShake
Dark Sided Computer Mouth

Learn more at the White Denim site!
Be their friend!

Not many people can take to stage alone. ACL Fest had Andrew Bird; FFF Fest had Owen Pallet aka

Final Fantasy

, and other than their violins, they're worlds apart. When Pallet took to stage, I immediately noted how he was a bit like a character from the beloved Winnie the Pooh series. He was Christopher Robin, all grown up. Everything was the same, except at this age, his imagination and creativity sort of just allocated elsewhere - to music. Needless to say, this man is skilled with a pedal. Stretching across stage, Pallet would construct numerous loops in an effort to bring his live performance to the complexity levels of his recorded tracks. Of course, there's only so much one person can do, but despite the obstacle, Pallet managed to construct and play a great set. Before leaving our presence, Pallet, of course, brought out a show stopper cover of, surprisingly, Mariah Carey's "Fantasy." Surprising, but...oddly fitting.



Various Songs From Final Fantasy

:
Many Lives -> 49 MP
This Lamb Sells Condos

Check out more at the Final Fantasy site.
Be his friend!

I didn't know how I'd receive

Okkervil River

. When I saw them last, it was in a cush auditorium where the sextet was backed by a full horn and string section. I didn't know how you could top something like that, but in the end I realized something. So they've lost the horn and string section, so what? These boys were meant to play to a standing crowd where applause always, by standard, was a standing ovation. By the time they got to us, the group had just capped off a six-week US tour and getting ready to leave for yet another tour in Europe. Certainly appearance showed some of that, but I think it was just brushed off as being how Okkervil River is - tidy but tattered. When it came to performance though, it was just superb. There was so much character, so much spirit in what was put up by Okkervil River on Saturday evening. Lead Will Sheff laid everything out on the table and spilled every word out with perfection. Guitarwork led to a broken string, and when his hands were free , he'd loom over the audience and gesture even more emotion into his performance. Playing an even mix of both old and new tracks, Okkervil River, I'm sure, delivered one of the best performances of the fest.



Various Songs From Okkervil River

:
For Real
The President's Dead

Learn more at the Okkervil River site.
Be their friend!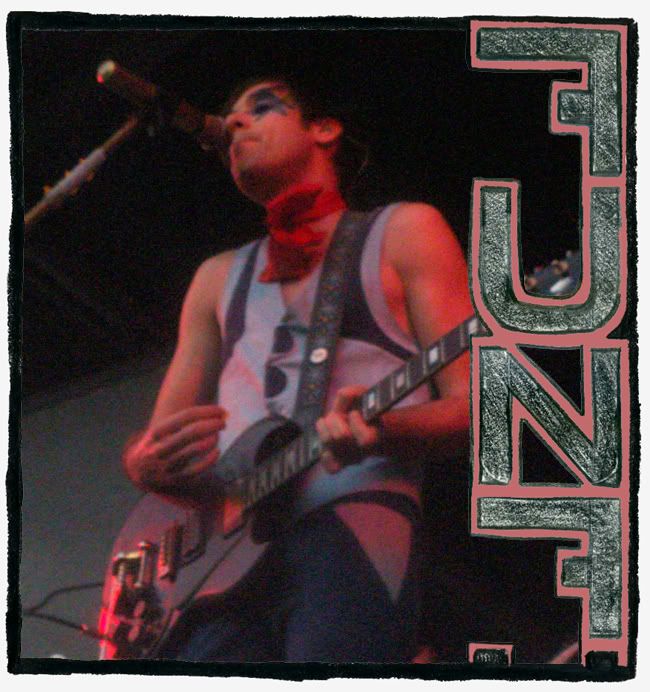 Something, I've yet to mention is the fact that I was (and still am) just coming off a not very nice cold. In this delusional state as brought about by a bit of medication, I got to watch

Of Montreal

, and it was perfect because I fell for every odd ploy that was pulled on stage from the dancer with a sword and the very trippy presentation being projected onto two screens on stage. Even the smoker's haze overhead let for an appropriate effect. When Of Montreal took to stage, you knew it, and the first thing to greet us was a man in a white suit and a tiger mask beckoning us to make some noise, and so it began. Of Montreal took to stage and started with no mercy by immediately delving into favorites from the Sunlandic Twins album. High energy was abound, everywhere, inescapable and through some sort of hypnosis they just release everyone's inhibitions and let the madness take over. Of Montreal, frankly, takes you places that you don't know about, don't want to know about, and all the while, you just don't care. Seamless transitions from song to song provided for a nonstop madness that just built upon more and more insanity. Eventually, the crazy peaked, a fuse blew up and the lights went dark. No matter, Of Montreal's fun house ended up turning into a dark ride. Memorable in every way, Of Montreal helped give Fun Fun Fun it's name that night.



Various Songs From Of Montreal

:
Requiem For OMM2
Heimsdalsgate Like A Promethean Curse

Check out more at the Of Montreal site.
Be their friend!

The sun had set, and I could no longer see my notepad at this point. Everything dropped here is courtesy of my horrible memory, but on the upside, what little is remembered, musta been the highlights. Now, when it comes to

The New Pornographers

, I chose the picture above for a reason. See how they glow? That's seriously how they would be on stage even if they didn't have the convenience of lighting. As if a gift from the heavens, The New Pornographers serve as an example of what a good rock band can be when collaboration is really kept in mind. You get an overwhelming sense of family with this group, and as they project such goodness onto their music, you just can't help but feel good. With a good hour of time, The New Pornographers set off to play a great mix of songs from their newest album, Challengers, as well as discography of old. At this point, I had been in the park since around noon, and was very tired. Explosions in the Sky would take to stage next, but I was totally at peace knowing my Fun Fun Fun festivities would end with what The New Pornographers brought about that night.



Various Songs From The New Pornographers

:
Twin Cinema
The Laws Have Changed

Check out more at the New Pornographers site.
Be their friend!


-----------------------------------------------------------------
No Otherwheres For This Post Guys
Labels: Fun Fun Fun Fest '07