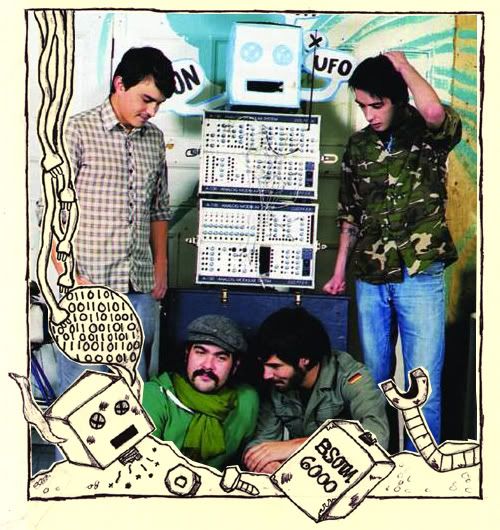 "Wolf Parade is like a retarded dog with four heads. At any given time, three of the heads are sleeping." - Dan Boeckner
Wolf Parade is the other band of that Frog Eyes/Sunset Rubdown/Swan Lake guy. His name is actually Spencer Krug, but "that Frog Eyes/Sunset Rubdown/Swan Lake guy" makes him sound busier and impressive-er. Actually, the other bandmates also have extensive band histories. There's also "that Handsome Furs/Atlas Strategic guy," "that Hot Hot Heat/Johnny and the Moon guy," with nods to Arcade Fire and Fifths of Seven. What band sluts, yea?

Now even though Wolf Parade was conceived and birthed and raised and married off to Sub Pop Records amidst an orgy of indie rock bands, the band manages to uphold a striking originality. Only the combination of Dan's "squawk squawk, mumble mumble" voice with Spencer's "thump thump" piano and Hadji Bakara's "blippity blappity bloop[s]" could result in such a sweet sound. Like The Little Rascals or Arthur & Friends, this motley crew works their motley-ness to their benefit. And ours.


(all from Apologies to the Queen Mary)
mp3
I'll Believe in Anything
(a stereotypical favorite, but my favorite nonetheless)
Brilliant video for "I'll Believe in Anything."

Soyea it's snowing in Baltimore!!! I still miss you terribly though, Austin.
Soyea is it true that more girls than guys enjoy salt & vinegar chips? Just a thought...