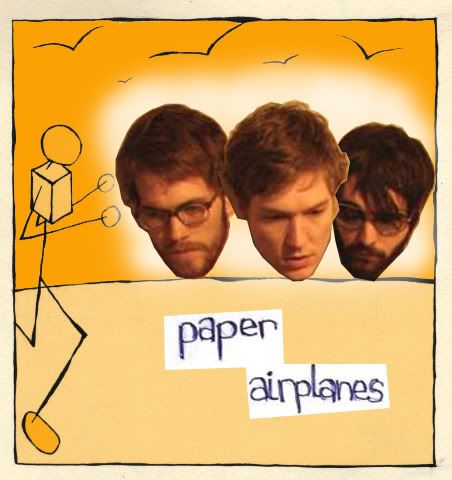 "The Fences" by Paper Airplanes rocked my socks off. I downloaded it off a promotional e-mail a while ago and completely forgot about it until it shocked me into recognition after coming up on my iPod in shuffle mode. I guess I didn't pay much attention to it upon immediate download because of the sophomoric name of the band (almost as bad as Dirty On Purpose), but I must assure you that the immaturity of the band's surface does not sink into its music. Granted, Paper Airplanes has a young sound, but instead of being pretentious, it brings instead a refreshing quirkiness that hasn't come around since the early Modest Mouse years.

Their first album, appropriately entitled

Boyhood

, was recorded when the three members were the tender ages of 18, 19, and 22, and is, obviously, boyish and fresh but still not childish nor underdeveloped. At times, it may seem that they are overloading their songs with instruments (as young musicians may tend to do), but in the next moment they will expertly cut all sound leaving only a harmony of voices to ease your ringing ears. They know how to craft a song -- each of their tracks are structured and have an effortless flow. With an indie gem such as "The Fences," it's better that Paper Airplanes never grows up.

One upcoming show:

March 17 @ The Eagle's Lodge in their hometown, Wichita, Kansas.

From
Boyhood

mp3
The Fences
mp3
Curious Phantasm
From
Scandal, Scandal, Scandal Down in the Cornfield

mp3
Debutantes, or the Town is Ablaze!