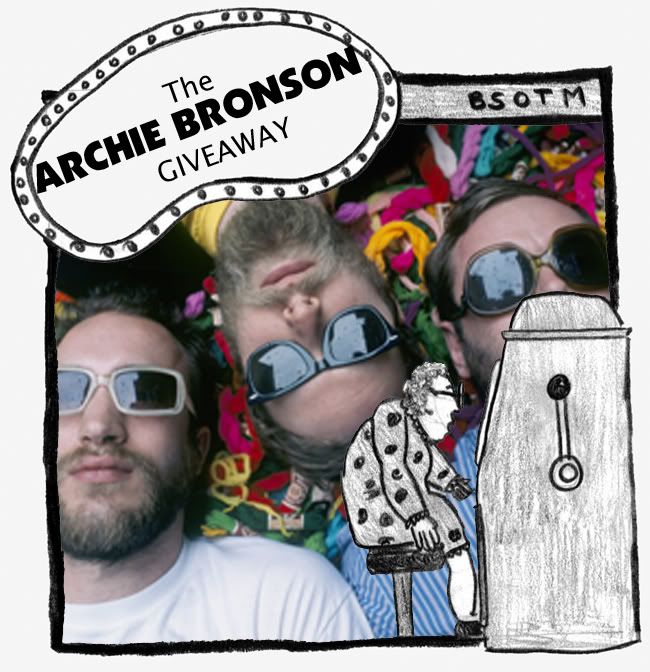 Well guys, today may be Friday the 13th, but consider today a rather lucky unlucky day. Why is that you ask? Well if you remember this and that, then you can probably guess that I'm rather fond of good ole' fashioned rock outs furnished by Domino Record's Archie Bronson Outfit. Now if you know that, then you can also probably guess that Alina and I here lke to host contests, because we love you.
Ironically, this appreciation of your mutual love for us on this Friday the 13th celebrates the fact that we've reached 13,000 (going on 14,000) visits since we started counting back in July. Thanks for making our unlucky day a happy one
! All right, you probably want to know what you're vying for by now, so I'll cut to the chase. The fine folks over at Domino are kind enough to offer up this set of goodies for the winner -
a PAIR of tickets to go see the Archie Bronson Outfit at their choice of one of the dates listed below, a vinyl LP of Derdang, Derdang, and a split 7" of ABO and Benjy Ferree
. Having said that, the trio are up for grabs at the following
bolded
dates:

October 16 - Portland, OR (Berbatis)

October 18 - San Francisco, CA (Bottom of the Hill)

October 19 - Sacramento, CA (Premier)

October 20 - Santa Barbara, CA (UCSB)

October 21

- San Diego, CA (Casbah)

October 22

- Los Angeles, CA (The Echo/Arthur Festival)

October 25

- Chicago, IL (Empty Bottle)

October 26

- Detroit, MI (Lager House)

October 27

- Cleveland, OH (Beachland Tavern)

October 28

- Philadelphia, PA (Northstar)

October 30

- Washington, DC (Black Cat Backstage)

October 31

- New York, NY (Sine'/Myspace Showcase/CMJ)

November 1

- Boston, MA (TT The Bears)

November 2

- New York, NY (Mercury Lounge/CMJ)


As you can see, the cutoff for the contest this time is rather soon - the 2oth - so get you entries in by then! You know the drill,

just email us your name, mailing address, and which bolded date above you want to see ABO at with the subject "BSOTM Contest"

. Good luck guys! The contest ends soon so jump to it!


Don't even know who they are? Scroll down or click to check my ABO post.