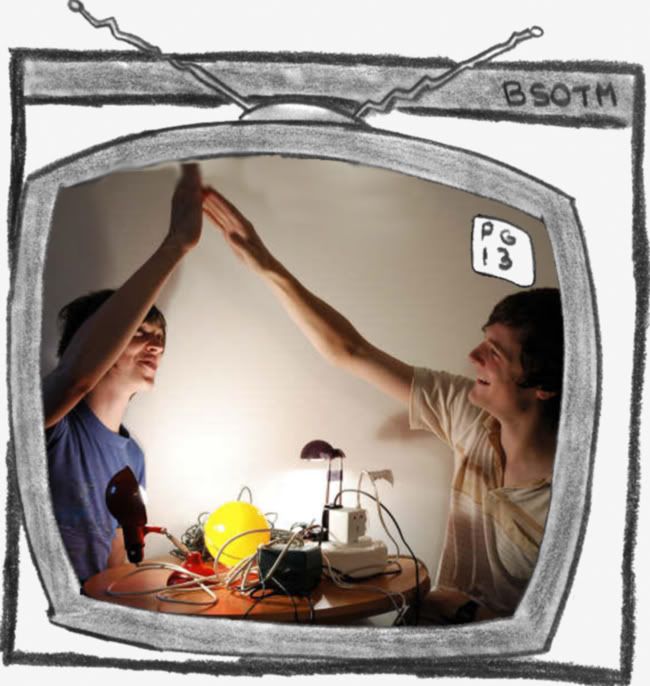 Remember Yossarian (actually now Shake My Hand)? Turns out member Ben Fawkes writes on a blog of his own (Kilroy's Chinos) in his downtime, and it gives preview of some great stuff on his side of the Atlantic as well. So what's my latest find courtesy of Ben? A duo under the name of Sir Yes Sir, of course. Made up of Joseph Logan and Daniel Cowley, Sir Yes Sir hail from Manchester via Runcorn and Reading. Sir Yes Sir carry a subdued energy encased in the repetetive beat of a drum machine and the ongoing slices of a guitar. With only two people, you really can't get more complex than that. At their stage, they're still on the amateur end of things and can only play where ever they can afford to go. Having said that, these guys have yet to leave the British Isles but hopefully that changes sometime soon...

Various songs from

Sir Yes Sir

(all songs are right click - save as):
Bass Hit
Hit Three
OK


Check them out at their site.
Be their friend!





Otherwheres

- A couple of good things are over at IGIF today. Nathaniel did one of his fantastic mixes for Halloween, and it looks like he also caught Bishop Allen recently...



Otherwheres

- Just a happy halloween to all of you, and remember the rules. Don't stick anything in your mouth unless it was wrapped, and strangers always have the best things to share with you...